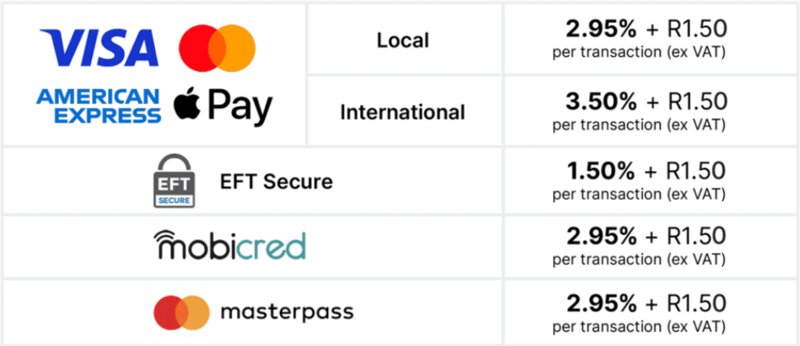 "A small difference in transaction success rate can mean tens of millions of rands in revenue.
Peach Payments delivers more successful transactions than anyone else."

Ryan Bacher,
Netflorist Managing Director
| | | |
| --- | --- | --- |
| Setup Fee | No Setup Fee | No Setup Fee |
| Account Fees | No Monthly Fee | R300/month |
| Transaction Fees | R1.50/transaction | volume-based |
| Tokenisation Fee | ― | No Monthly Fee |
Local Cards (3DSecure)
2.95% + R1.50/transaction
volume-based
Local Cards (Non-3DSecure) / Recurring
3.50% + R1.50/transaction
volume-based
International Cards
3.50% + R1.50/transaction
volume-based
American Express & Diners Club
―
volume-based
EFT Secure
1.50% + R1.50/transaction
volume-based
Mobicred
2.95%+ R1.50/transaction
volume-based
Masterpass
2.95%+ R1.50/transaction
volume-based
Apple Pay
―
volume-based
PayPal
―
✔️
3D Secure
✔️
✔️
Currencies
―
Accept all currencies,
settled in Rands
| | | |
| --- | --- | --- |
| Own bank account | ✔️ | ✔️ |
| Automated settlements | ✔️ | ✔️ |
| Settlement frequency | weekly (Friday) | daily |
| Bring your own merchant account | ― | ✔️ |
| | | |
| --- | --- | --- |
| Accept international cards | ✔️ | ✔️ |
| Refunds | ✔️ | ✔️ |
| Payment links (PaySafe) | ✔️ | ✔️ |
| One-click checkout | ― | ✔️ |
| Recurring / subscription billing | ― | ✔️ |
| Checkout API (including plug-ins) | ✔️ | ✔️ |
| Copy & Pay widget | ― | ✔️ |
| Server to server API | ― | ✔️ |
| Payout solution | ― | ✔️ |
| Mobile SDK | ― | ✔️ |
| | | |
| --- | --- | --- |
| Shopify | ✔️ | ✔️ |
| Wix | ✔️ | ✔️ |
| Woocommerce | ✔️ | ✔️ |
| Magento 1 | ✔️ | ✔️ |
| Magento 2 | ✔️ | ✔️ |
| Xero | ✔️ | ✔️ |
| Shopify + Wallee (multi-currency) | ― | ✔️ |
| | | |
| --- | --- | --- |
| Reconciliation data | ✔️ | ✔️ |
| Transaction export | ✔️ | ✔️ |
| Support for customer recon systems | ― | ✔️ |
| | | |
| --- | --- | --- |
| No. of users | unlimited | unlimited |
| User permissions | ✔️ | ✔️ |
| | | |
| --- | --- | --- |
| Multi-channel support | ✔️ | ✔️ |
| Enhanced account management | ― | ✔️ |
| Priority support | ― | ✔️ |
Trusted by
Monthly credit card turn-over :
R,000
> 300K?
Contact sales
for a custom rate
Monthly number of transactions :
Transaction fees:
R

/month


(excluding VAT)

"Every online business needs to make sure it is easy for customers to do that quick click through to purchase. OneDayOnly recently did a survey, and trust is what people are looking for. Trust in your brand, trust in your quality, and trust in your payment services. That's why we've partnered with Peach Payments."
Laurian Venter,
OneDayOnly Director

Absolutely! We accept applications as sole proprietors and any other businesses.
You can click the Get Started button and fill out that form (also called an "application"). We will save your application so that when you have a website, you can add it to the application. We will then finalise your application and send you the credentials you need to go live and start trading.
You can display your prices in any foreign currency when using our Woocommerce plugin or a custom integration. When your customer makes a purchase, the customer will see the transaction in his or her home currency.
However, you will only receive your funds (also called a "settlement") in your home currency (i.e. Rands if you have a South African bank account).
Absolutely! If you have your own merchant account, or want to get your own merchant account, we can facilitate that on your behalf.
You would be eligible for our Enterprise plan so you should click the "Contact Us" button on this page to negotiate your rates with our sales team.
Unfortunately, we do not accept dropshipping businesses currently.
There are no setup or monthly fees for the Growth Plan.
There could be setup or monthly fees for the Enterprise plan, depending on what services you need. A sales team member can discuss this with you so you get the best possible account setup and pricing.
Absolutely! Both of our plans allow for any credit or debit card issued anywhere in the world to be accepted.
The Baymard Institute reports that you can get up to 35% more conversions with better checkout design.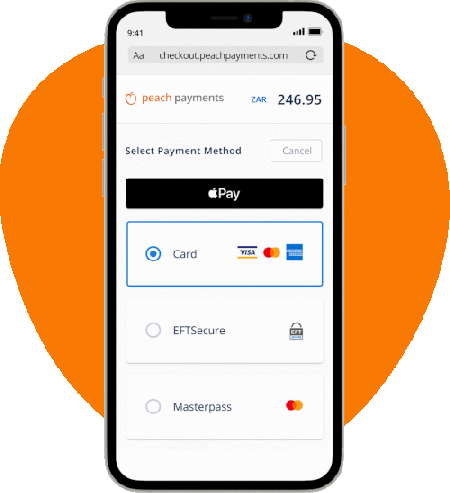 PCI DSS Level 1 Enterprise-grade security.
We adhere to the highest global security standard to give you and your customers peace of mind.
One-click checkouts, subscription payments and payment links.
Make payments easier for your customers and watch revenue increase.
Customers can retry their purchases.
If a payment fails, you don't lose the sale. Customers simply select another payment method without retyping their details.
Bring your own merchant account, and switch payments to multiple accounts.
Have multiple business bank accounts, or need to route payments according to business brand, card brand or currency? No problem.
120+ fraud detection algorithms
Reduce fraud risk and minimise chargebacks with Peach's state of the art fraud prevention systems.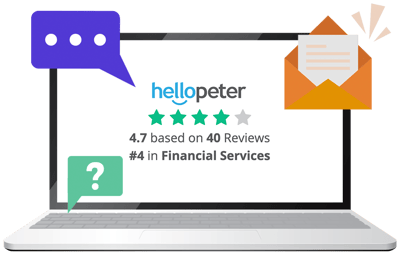 Personalised, multi-channel support
We're HelloPeter's highest-rated payment gateway, and we're always here for you.